Thinking about home network wiring? Ready to have a more efficient home network with easier sharing capabilities?  Contact the professional electricians at Graf Electric. We'll run your CAT5e and CAT6 Ethernet cables, install wall ports, and set up a patch panel.
We are a BICSI Certified Voice / Data Installer in Wichita, KS, ready to assist you with all your home network wiring needs.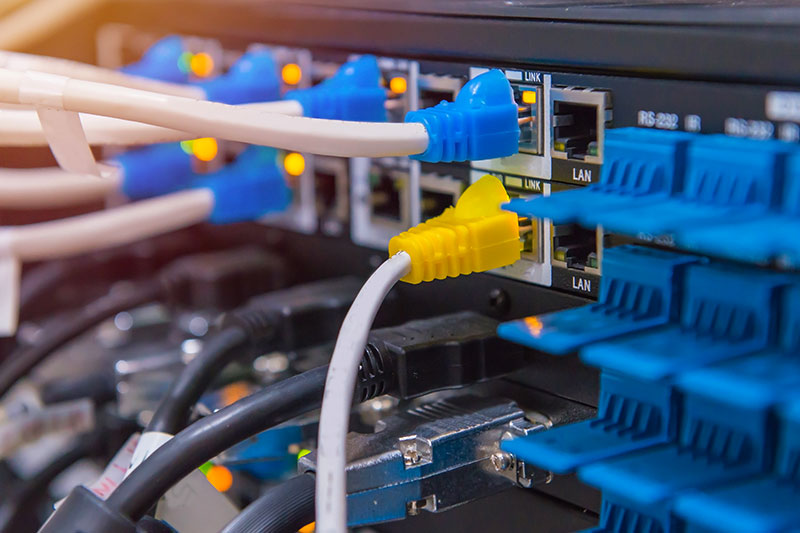 Network Cables vs Wi-Fi
You'll get the best performance and speed by running network cables, especially if you plan on doing a lot of streaming on your local network. Even if you'll be setting up a wireless network, both the broadband modem and wireless router have to connect to a cable somewhere. And, if you want to connect devices that are Ethernet-ready, you'll need multiple cables.
Running Network Cables
Adding Ethernet connections to the kitchen, family room and bedrooms is not a DIY task. Running the cables through the walls or crawl space requires special equipment, and knowledge of how to avoid any pipes or electrical lines that are already in these areas. Graf Electric's experienced technicians will add all the wiring for your home network and keep it hidden whenever possible. We'll connect the wall ports or Ethernet jacks, so all you have to do is connect your equipment.
Patch Panel Wiring
If your home networking system is going to include a lot of wall ports, Graf Electric can set up a patch panel to help manage the cables coming from all the network ports throughout your home. The patch panel is centrally located, usually near the home server and/or the switch or router.
Contact Us For a Free Consultation
Contact Graf Electric today for a free in-home consultation for home network wiring. Call 316-686-2090 to learn more.
Graf Electric has been serving homeowners in Wichita and the surrounding areas since 1968. Our dependable, knowledgeable electricians are dedicated to providing excellent customer service.
Related Residential Electrical Services