Trusted Commercial Electricians in Wichita, KS
Graf Electric is staffed with commercial electricians in Wichita, KS who are skilled at electrical installations, repairs and maintenance. Electrical work for businesses require far greater expertise than most residential electric repairs, including different materials and procedures.
Graf Electric, Inc. has the experience and equipment to handle everything from routine maintenance to complete plant installations. Our skilled team of commercial electricians stay up-to-date on current safety and technology standards. We keep up on the electrical needs of your industry, whether it's retail, office, restaurant, or industrial.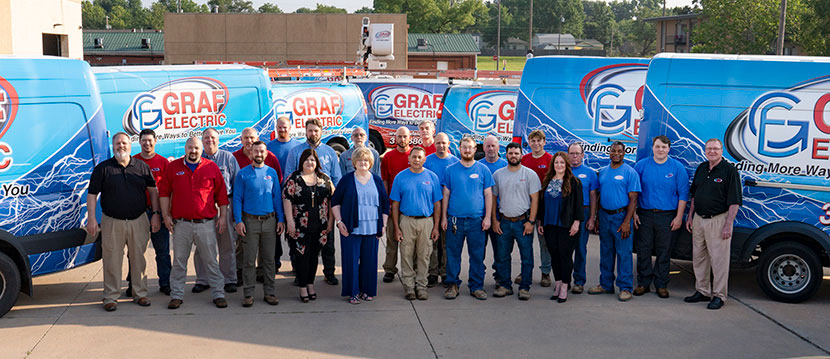 City of Wichita License #1332.
Commercial Electrical Services
Our team of skilled commercial electricians are dedicated to providing prompt, professional service to keep your business operating smoothly and safely. Business owners in Wichita count on electrical problems being taken care of in a timely manner and to their complete satisfaction. Trust Graf Electric for all your electrical repairs and installations, including:
Inspection, Installation, Upgrade and Maintenance
Remodel and relocation electrical wiring and design
Tenant finish
General commercial electrical repairs and maintenance
Electrical panel service upgrades
Energy-Saving Audits & Services
Power quality testing, investigation and consulting
Outlet and light switch fitting and retrofitting
Upgrade to energy-efficient light fixtures
Lighting timer and dimmer installation
Safety & Security
Fire alarm systems
Fire damage repairs
 Commercial Lighting Services
Wiring & Cabling
Machine and equipment wiring and installation
Wiring for sound systems
Other Business Services
Motor control
Cell phone tower installation and repair
Industries & Customers We Service
Restaurants
Offices
Schools
Manufacturing
Medical
Retail
Health Care
Exercise Facilities
Churches
With our large fleet of commercial service trucks, we are Wichita's most trusted master electricians. Our years of experience include electrical system design and build services for new construction, relocation and build outs.
We work safely and efficiently. You can rest assured your electrical work will be done right and to the highest safety standards. To protect your business and avoid code violations, we obtain all the required permits, approvals and inspections for your project.
We specialize in commercial interior rewiring for today's technologically-advanced offices, to accommodate computer networks, security systems and energy-saving devices. Upgrading the existing electrical system at your facility will help to enhance the value of your business.
Our commercial electricians inspect buildings and offer suggestions regarding energy efficient upgrades to lighting systems and the installation of motion sensors and security cameras to help save business owners money.
Graf Electric, Inc. can also service all the electrical needs of a multi-million dollar structure or update the electrical system of a small, independently owned store. Our electricians will make your workspace energy efficient and up-to-date, to give you maximum productivity and growth in your business.