Looking for a reliable electrical contractor to install a whole house generator in Wichita? Trust Graf Electric for safe, professional residential backup generator installation in south-central Kansas.
If a thunderstorm or ice storm were to knock out the power to your home tomorrow, would you be able to safely stay there until the electricity is restored? Sure, you could use candles and flashlights to get around. But would your food in the refrigerator spoil? Do you have medical equipment that you wouldn't be able to operate without electricity? What about your sump pump – would it keep your basement from flooding? If you're not sure about the answers to these questions, consider professional whole house generator installation from Graf Electric.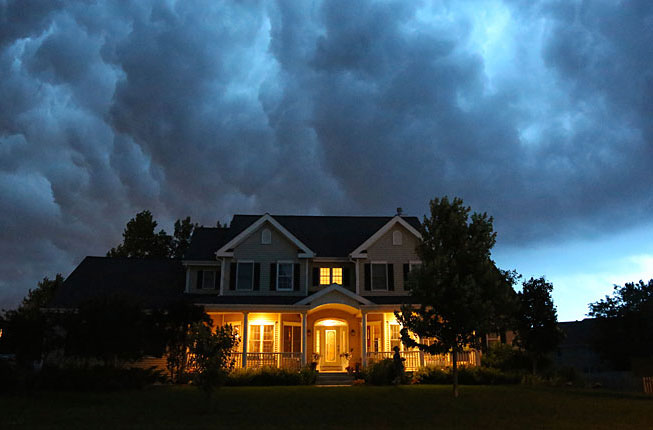 Benefits of Installing a Whole House Generator
Why Should I Get a Whole House Backup Generator?
In recent years, the Wichita area has seen more than one thunderstorm or ice storm that caused power outages that lasted for days. A backup generator helps you survive even the toughest storms in relative comfort and reduces the chance that you'll have to pay for costly repairs or other damages afterward.
Keep the Lights on During a Blackout
Obviously, installing a generator means you'll be able to keep lights on at night. Not only will this make it safer to get around inside your home, but keeping your usual security lights, cameras and other systems operating during a blackout also lowers the chance of a break-in or looting.
Make Sure Your Sump Pump Keeps Running
Unless you have a backup sump pump installed, your home is at risk of a flooded basement if the power goes out during a storm with heavy rain. And unfortunately, water damage from a failed sump pump is considered "water backup", which isn't covered under typical homeowners insurance policies, or even by flood insurance. A whole house generator can ensure your sump pump has the power to keep running until the electricity is restored.
Power Life-Saving Medical Equipment
Oxygen concentrators, nebulizers, CPAP and BiPAP machines all require electricity to operate. If you or someone you love relies on these medical devices, installing a backup generator will ensure their medical equipment will work even if your home loses power.
Make Sure Lines of Communication Stay Open
We rely on our smartphones to communicate with others, get weather updates and even for entertainment, all of which are important during a major storm or extended power outage. With a backup generator, you won't have to worry about finding a power bank to keep your phone charged or conserving the battery on your kids' tablets.
Prevent Spoiled Food
How much would it cost you to replace all the food that's in your refrigerator or freezer right now? Investing in a standby generator will ensure your refrigerator stays cool and your freezer stays cold so there's no risk of spoiled food if the power goes out.
Keep Your Furnace or Air Conditioner Running
Kansas weather can be brutal, from sweltering summers to withering winters. If a power outage happens during the summer and you have no electricity to power your air conditioner or fans to circulate the air, you'll be in a miserable, or even dangerous, situation. And if you lose power during the winter when temperatures are below freezing, your furnace can't run so you risk frozen pipes, frostbite or worse.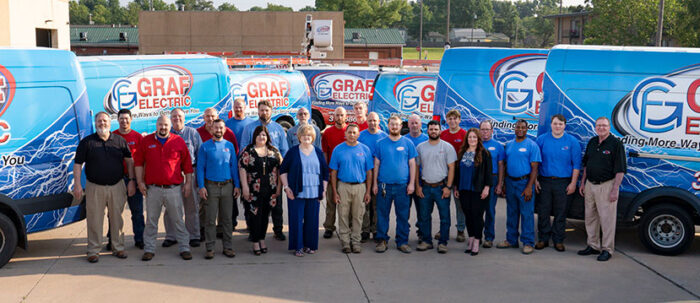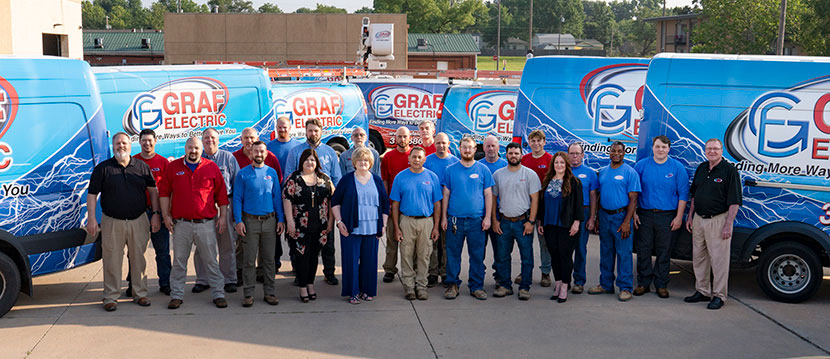 Count on Graf Electric to Install Your Backup Generator
Graf Electric's residential electricians have been serving homeowners in Wichita, KS, and nearby communities since 1968. We're locally-owned and operated, and we take pride in our reputation for outstanding customer service and competitive pricing. If you're looking for a trusted electrical contractor to install a whole house generator for your home, contact Graf Electric today.
How much does a whole house generator cost?
The cost of a backup generator depends on the size. Installation costs for a home standby generator will vary depending on the generator size and the fuel type being used to power it.
Can I install a home backup generator myself?
Whole home backup generator installation is not a DIY project. It must be connected to either a natural gas line or a propane fuel tank as well as your electrical panel. Additionally, a concrete pad will typically need to be poured to provide a stable base for the generator.
Is a permit required to install a backup generator in Wichita?
Yes, the Kansas Department of Health and Environment requires a permit for emergency generator installation. When Graf Electric installs your whole house generator, we take care of obtaining the proper permits so you don't have to worry about it.
What size of standby generator do I need for my house?
You don't need to buy the most powerful generator on the market. We help our customers choose the right generator size by thinking about what they would need to power during an electrical outage and how long they want to be able to rely on their generators for power.
Is installing an automatic backup generator worth it?
For homeowners here in the Wichita area, absolutely! Kansas is known for wild weather, and in recent years, we've seen power knocked out by wind, heavy rains and flooding. Investing in a whole home generator will give you peace of mind no matter what Mother Nature serves up.