Data/Voice Network Cabling Systems for Business
Graf Electric provides complete voice and data wiring services for your company's computer networking and communications systems. Whether you need to upgrade your existing network, or set up all cabling for a new facility, our experienced technicians will get the job done quickly and efficiently.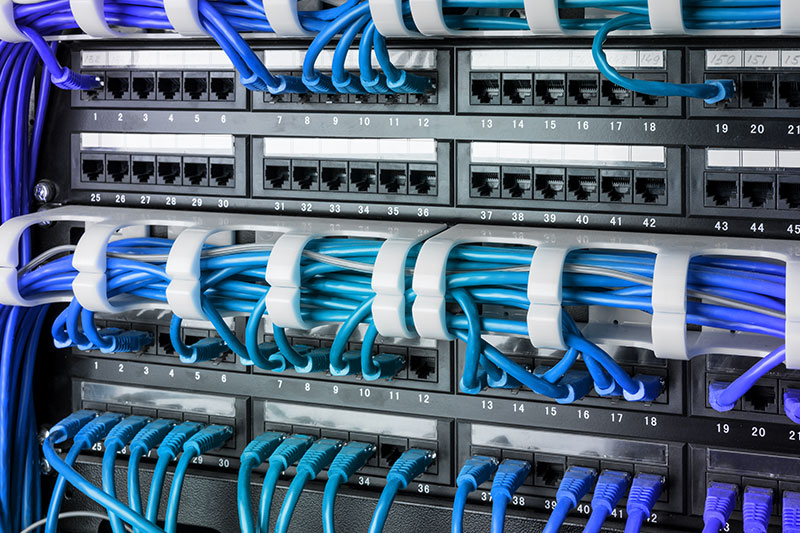 Voice Wiring
Installing a new phone system or adding new staff can require additional phone lines and jacks. Graf Electric's experienced technicians will run wires for the new telephone lines, and install phone jacks where you need them. We'll ensure the wiring is hidden in walls and ceilings whenever possible, so your office or shop remains clean and professional-looking.
Computer Network Data Wiring
Graf Electric can handle all the cabling and wiring needs for your Wichita-area business. Our professional electricians can design and install your entire cabling infrastructure, whether it's for a new construction, remodel, expansion or system upgrade.
We can add DMARC extensions and single cable drops. We also specialize in large network configuration and setup, including server room wiring and setting up patch panels and network racks. We can install Ethernet wall ports for every computer in your office, or hook up the router, server, and Wi-Fi.
Voice & Data Wiring Service
Computer Network Cabling
Coax Cabling
Fiber Optic Cabling
CAT6 Cabling
CAT5e Cabling
CAT3 Cabling
Server Room Cabling
Business Ethernet Cabling
LAN Cabling
Telephone Room Cabling
Patch Panel Setup
Video Cabling
Wireless Infrastructure Cabling
Surveillance Camera Cabling
Choose Graf Electric for all your Network Cabling Needs
Graf Electric has been serving business and residential customers in Wichita and the surrounding areas since 1968. Our professional team works efficiently and quickly, without sacrificing quality, so your business can get up and running as soon as possible. Contact us today at 316-686-2090 to discuss your voice and data wiring needs.