Business Light Installation, Maintenance and Repair
For service and installation of lighting inside or outside your commercial or industrial facility, Graf Electric is the area's best choice for prompt, professional service.
Indoor Business Light Service and Repair
Does your office have a light that never seems to work right? Would you like to upgrade to energy-efficient lighting? Do you need dimmers, timers, or additional fixtures installed? Trust Graf Electric to professionally upgrade or service any type of commercial indoor lighting.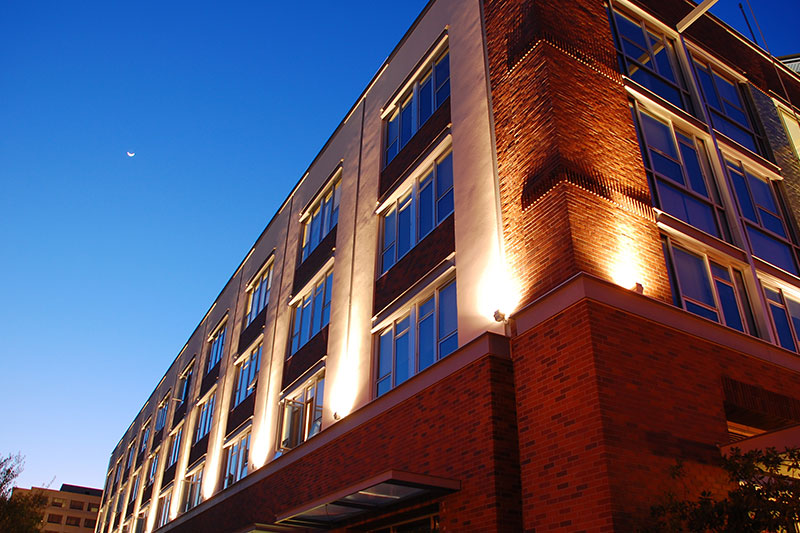 Interior Commercial Lighting Services:
Office lighting installation and service
Replace or repair interior fixtures, ballasts, lamps and bulbs
Energy-efficient upgrades and retrofits
Power quality testing and consulting
Outlet and switch fitting and retrofitting
Emergency lighting
LEDs, pendants, sconces and recessed lights
Exterior Commercial Lighting Services:
Security light installation and service
Parking lot lighting installation and service
Pole light energy-efficient retrofits
Emergency lighting installation and service
Exit Sign installation and service
Group re-lamping
Replace and install exterior lamps, ballasts, fixtures and bulbs
Commercial Lighting Planning and Installation
If you're building or remodeling, you'll need a lighting plan to make sure your commercial space is well-lit and energy-efficient. Our experienced master electricians will evaluate your company's unique needs to determine the proper number, type, and placement of light fixtures and switches. Our expert team knows how important this part of your construction project is, so we pride ourselves on being on-schedule and doing the job right.
Graf Electric Services and Installs all Types of Exterior Lights
Having adequate lighting on your company's exterior and in the parking lot will help your customers and employees feel safe as they walk to and from their cars. It will also deter vandals and thieves. And, a well-lit building will be easy for clients to find your business after dark.
Interior Business Lighting Services for New Construction and Remodels:
Interior Wiring
Installation of fixtures, switches, and outlets.
Trust Graf Electric for More than Just Lights
We pride ourselves on providing high-quality service to businesses of all types and sizes in the Wichita, Kansas, metro area. Since 1968, keeping our customers satisfied has been our top priority. No matter what your company's electrical need, Graf Electric can help.
Related Commercial Electrical Services:
Contact Graf Electric Today!
Call us today at 316-686-2090 for a free on-site consultation to discuss your goals and needs for commercial lighting.