Vacuuming is a fundamental part of modern living, but vacuum cleaners can be bulky and inconvenient. Every home gets its share of dirt and grime, but with a central vacuum system, you can make clean up easy. Not only is a central vacuum system powerful, lightweight and convenient, but evidence shows it also improves indoor air quality.
Fortunately, Graf Electric can install Dirt Devil and HP central vacuum systems and service all brands of central vacuum systems and Hide-A-Hose systems in existing homes and new construction.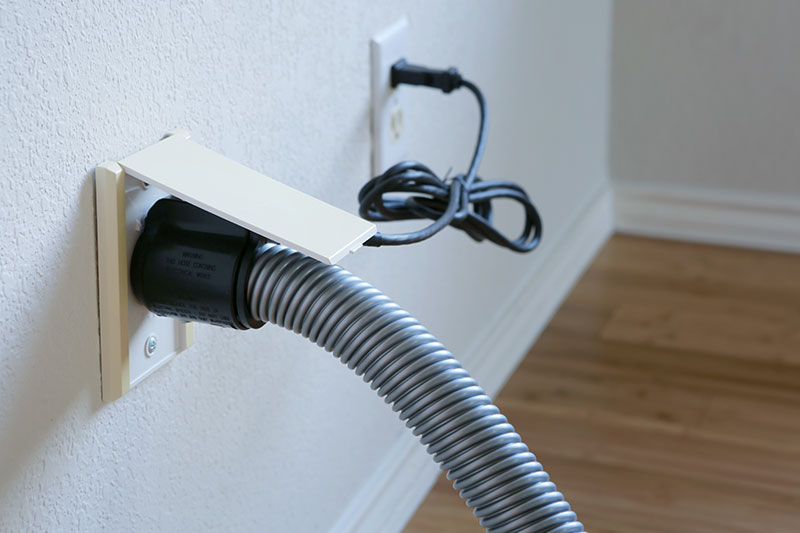 Central Vacuum Systems
The biggest benefit of wired vs. battery-powered smoke alarms is peace of mind.
Central vacuum systems are permanent fixtures designed to remove all the dirt and debris from your house through PVC tubing located in the walls to a receptacle in an out-of-the-way location in the home.
No more hauling a heavy vacuum from room to room. Inlets are placed around the home in convenient locations, so all you have to do is choose your attachment and connect the hose where you need it. Central vacuum hoses are lightweight, flexible, crushproof and they come in several lengths. Along with the attachment you choose, they're the only part of the system you have to carry.
For added convenience, add a sweep pan to your central vac system and eliminate the need for using a dustpan. This discreet inlet can be installed along the baseboard in any room with hard-surface flooring. When you sweep the floor, just open the sweep pan with the foot switch and sweep the dirt in. The central vac will kick on and suck all the debris away in a flash.
The vacuum motor is located in an area such as the garage or basement, ensuring that it stays discreet and doesn't take up space in the home. You'll need to empty the dust and debris on a regular basis, so it's best to choose a convenient spot.
There are two types of central vacuum systems—filtered and cyclonic.
Filtered central vacuum systems can use a variety of filters such as cloth, screen or paper to clean the air from the vacuum. Some filtered units take bags which must be emptied at ¾ full, ensuring efficient suction and motor protection. In any filtered system, filters need to be cleaned and replaced regularly.
Cyclonic central vacuum systems use centrifugal force to separate the impurities from the air being taken in by the vacuum, and then deposits the dirt into a canister. These units are generally bagless.
What are the Benefits of Central Vacuum Systems?
A central vacuum system can cost less than a high-end moveable vacuum and can add around $2,000 to your home's resale value.
Central vacuums are quiet. The motor, which is the main source of noise, is located in a discreet and out-of-the-way location. The only audible noise is from the vacuum head.
Hoses are long enough to vacuum hard-to-reach places such as ceilings.
Central vacuums are lightweight and easy to use because the hose is the only component moved around the home.
Portable vacuums recycle vacuumed allergens back into the air outside through the exhaust which improves indoor air quality.
Central vacuum motors can be up to three times stronger than the motors in moveable vacuums.
Hide-A-Hose Central Vacuum Systems
Hide-A-Hose central vacuum systems are central vacuums designed to make cleaning as convenient as possible. There's no hauling, coiling or storing of the hose needed because it's stored inside the wall. Simply pull out the amount of hose you need, connect an attachment and begin vacuuming. When you're finished vacuuming, the suction from the unit will automatically retract the hose back into the PVC tubing installed within the walls of the home. Each central vacuum wall inlet can accommodate a 2300 square foot room, or they can be custom placed according to your needs.
Hide-A-Hose systems can be combined with any leading central vacuum unit manufactured today. If you already have a central vacuum system installed in your home, some plumbing replacements and sweep additions will need to be made.

Contact Us for Central Vacuum Installation And Service
Graf Electric has been serving homeowners in Wichita and the surrounding areas since 1968. Our knowledgeable and dependable staff is dedicated to providing excellent customer service. Contact us today at 316-686-2090 to get started with your central vacuum installation or service!