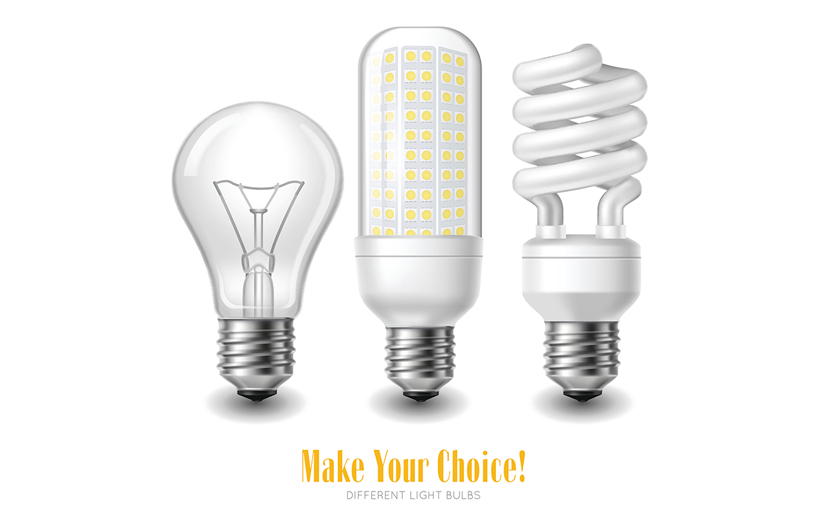 In this day and age, you have more choices than ever when it comes to purchasing light bulbs. With so many options, how do you know which kind to buy? Let's take a look at the six main types of light bulbs used in Wichita homes and businesses. as well as additional information such as wattage and lumens, so you'll know exactly which light bulb you should purchase.
Halogen
The halogen light bulb is a type of incandescent lamp which uses a halogen gas in order to increase light output and lifespan. A halogen lamp functions identically to an incandescent lamp with one exception: The halogen cycle. This makes a halogen bulb more efficient.
Halogen lamps are typically used as automotive headlamps, under-cabinet lighting or work lighting.
CFL
Compact Fluorescent (CFL) light bulbs are simply miniature versions of full-sized fluorescents. They fit standard lamp sockets, and give off light that looks just like the common incandescent bulbs. CFLs are around four times more efficient and last up to 10 times longer than incandescent bulbs. Common CFL bulb styles include spiral, standard, globe and flood lamps.
LED
Light Emitting Diode (LED) bulbs fit standard lamp sockets and are the most energy-efficient light bulb options (next to CFLs). LEDs deliver quality light across a broad spectrum of color temperatures from warm to white in order to suit any indoor or outdoor application. LEDs have an impressive lifespan and are very cost-effective, making them a good choice for everyday use.
Incandescent
Incandescent bulbs use a filament that's heated which then produces the bulb's light. Incandescent bulbs are compatible with control devices such as dimmers and timers, and they can be used both indoors and outdoors. Because of this, the incandescent lamp is widely used both in household and commercial lighting. However, most incandescent light bulbs were phased out several years ago due to the Energy Independence and Security Act of 2007.
Fluorescent
Fluorescent bulbs are filled with mercury vapor that emits UV light when electricity is applied. You likely know these bulbs to be long tubes that are installed in garages or commercial buildings, but they come in compact sizes too. They use less energy than incandescent bulbs.
HID
High Intensity Discharge (HID) bulbs are generally used in larger spaces such as warehouses or in streetlights. They are filled with sodium or mercury vapor that conducts electricity. These lamps are known for their high efficiency and their long life. HID lamps require a ballast in order to generate the initial surge of electricity needed to start them and to regulate their power during regular operation.
Watts and Lumens
Watts, contrary to popular belief, refers to the amount of energy a light bulb uses. Wattage doesn't refer to how bright the bulb is. The lower the watts, the more energy efficient the bulb is. CFLs and LEDs have a lower wattage than incandescent light bulbs, but they are just as bright.
Lumens refers to the brightness emitted from a light bulb. More lumens equals brighter light. Standard 100-watt bulbs produce about 1600 lumens.
Wattage Breakdown
If you're unsure of the correct wattage to purchase, use this chart to locate an energy saving equivalent.
| Incandescent | Halogen | CFL | LED |
| --- | --- | --- | --- |
| 100 watt | 72 watt | 23 watt | 14-16 watt |
| 75 watt | 53 watt | 20 watt | 12-13 watt |
| 60 watt | 43 watt | 15 watt | 8-9 watt |
Lighting Labels
Lighting labels provide information to help you choose the best bulb. They are now required to appear on all light bulb packaging. Facts include estimated energy cost per year, lumens, life expectancy, light appearance, etc.
Light Color
Light color or light appearance is measured on the Kelvin (K) scale. A lower Kelvin number indicates more yellow light, whereas a higher Kelvin number indicates whiter or bluer light.
Soft White is the standard color of incandescent bulbs. Perfect for bedrooms, living rooms or other rooms that need low light. (2,700K to 3,000K)
Warm White is between the yellow and white ranges. The color is great for kitchens and bathrooms. (3,000K to 4,000K)
Bright White is between the white and blue ranges. It looks best in kitchens and bathrooms with white features. (4,000K to 5,000K)
Daylight is in the blue range. It's great for rooms that need bright light, such as a reading room. (5,000K to 6,500K)
Light Bulb Shapes and Bases
Light bulbs are available in many shapes and base styles. LED, CFL and incandescent bulbs can be used in lamps, pendant lights, ceiling fans and other light fixtures. Make sure you know which one you need before you make a purchase.
Latest Lighting Technology
Voice-Enabled
Light bulbs have been created that turn on and off via voice recognition.
Music
These LED light bulbs have a built-in Bluetooth speaker so you can stream your playlists. There is also color-changing technology that you can utilize.
Cell Phone Technology
Control your lighting from your cell phone via wifi. Dim lights, turn them on or off, or schedule your lights to come on before you get home, or when you're away on a trip. Caséta Wireless by Lutron is a connected home system that allows you to do all this and more.
With lighting costs that account for around ten percent of a household's yearly energy costs, it's always important to examine your options and know which bulb will best suit your needs. With this guide, you can light your home or building as you wish while reducing your energy usage. Still have questions? The experts at Graf Electric in Wichita, Kansas, are here to help.