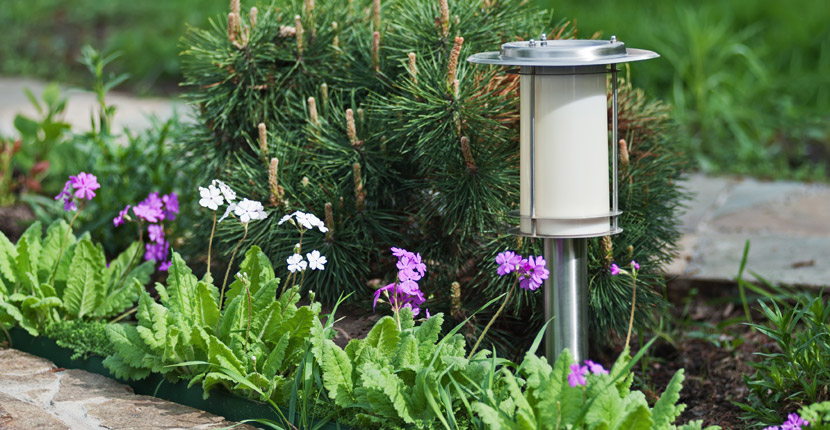 Adding landscape lighting to your garden, walkways, and outdoor living spaces greatly increases your home's curb appeal. But which type of landscape lighting is right for you?
Solar? Wired? A combination?
Solar landscape lighting is gaining popularity as people seek to reduce their carbon footprint, while wired landscape lighting is a time-tested option. Here's a basic comparison of cost, reliability and brightness.
Power Usage & Cost
Solar landscape lights run entirely off the energy produced by the sun, so there's no addition to your energy bill each month. New advancements in solar lights, such as long-lasting LED bulbs and rechargeable batteries, mean fewer replacement costs down the line, too, though these types of solar lights do cost more initially.
Wired lighting systems add to your electricity bill, but new innovations in LED and low-voltage landscape lighting can help keep costs down. LED lights, for example, deliver the same or better light quality as traditional lighting types but use only a fraction of the energy. LED bulbs are also extremely long-lasting, cutting down on replacement costs.
Reliability
A solar lighting system will work well so long as it receives the amount of sunlight needed to fully charge the batteries. Less-than-optimal charging (due to factors like short winter days, overcast skies, lights that are covered in dirt and grass from mowing, etc.) can not only leave you with dim light, but can shorten the battery life. Solar lights with rechargeable and photocell batteries combat this by storing "backup" energy for low-light days, but if your location consistently doesn't get enough sun, you'll be left with an inefficient system.
Since they run off electricity, wired systems will provide reliable, consistent light so long as the wiring is maintained properly and the bulbs replaced when needed.
Brightness
Even when fully charged, solar landscape lights usually don't offer the same bright white illumination of electric lights. Where visibility is a main concern—such as helping visitors locate your property or illuminating a social area like a patio or deck—wired lighting is likely your best bet.
The glow of solar lights, on the other hand, may be just the thing for beautifully lighting a garden, and can bring illumination to areas of your yard that are far from electrical sources.
As you can see, the choice of solar or wired landscape lighting (or a combination), depends greatly on your specific lighting needs and location. With the right landscape lighting, you can increase the beauty of your property and light up the night!